Maryanne Demassi | 30 Nov 2021
Leaked documents have cast fresh doubts over the integrity of data arising from Pfizer's pivotal COVID-19 vaccine trial and suggest problems at Ventavia are ongoing.
Earlier this month, whistle-blower Brook Jackson, raised serious concerns about 'falsified data' in Pfizer's mRNA trial (Comirnaty) to The BMJ. The concerns were corroborated by two former Ventavia employees.
Authorities were quick to allay public anxiety.
Drug regulators in Australia (TGA) and the US (FDA) released statements assuring the public they had full confidence in the data. Further, the benefits of the Pfizer vaccine outweighed the risks.
High profile researchers were sceptical. "It's all this sort of vague kind of hand waving ….that The BMJ published it doesn't make it any more true," said vaccine expert Dr Paul Offit.
Ventavia, the Texas-based company at the centre of the controversy, released a statement claiming that, in respect of Ms Jackson, "no part of her job responsibilities concerned the clinical trials at issue."
Undeterred, Ms Jackson fired back.
Ventavia and its spokesperson Lauren Foreman, were served with a cease-and-desist letter, by attorney Robert Barnes, acting on behalf of whistle-blower, Ms Jackson.
Of Ventavia's claims, the demand letter says:
"This statement is false. This statement impugns the reputation of my client, Brook Jackson, and falsely implies she publicly misrepresented her work on the clinical trials."
Attorney Barnes is calling for Ventavia to immediately issue a public retraction and to "formally and publicly apologise" to Ms Jackson.
Her letter of offer for employment indicates Ms Jackson was hired as a "regional director" by Ventavia on 7 Sept 2020. She has almost two decades of experience in clinical trial co-ordination and management behind her.
Her duties included overseeing the operations, recruitment, and quality assurance of trial sites belonging to Ventavia.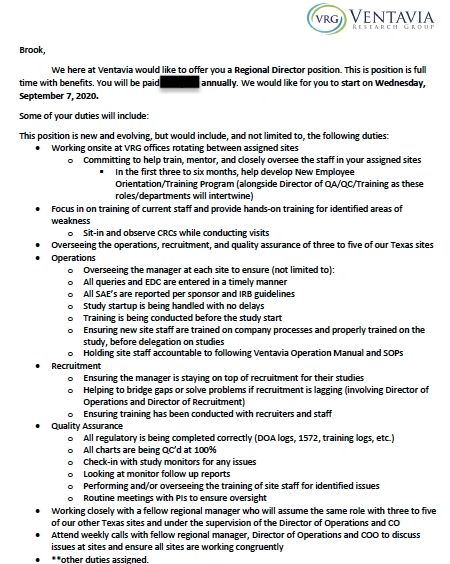 The documents
Ms Jackson has spoken with maryannedemasi.com, responding to the critics who suggested the allegations she made about the Pfizer trials were unevidenced.
Leaked documents support Ms Jackson's observations and raise even more questions.
There were multiple examples of "laboratory processing logs" filled in by staff which contained glaring inconsistencies and anomalies in specimen handling.
Ventavia appeared to be aware of the need to make improvements and Ms Jackson was recruited for the very purpose of improving their quality control.
Among the documents is a list of Ventavia's outstanding "action items", which include discussions with trial co-ordinators about the integrity of data.
The list was dated 11 August 2020 and shows that Ventavia had concerns about data falsification even before Ms Jackson's arrival. (see list).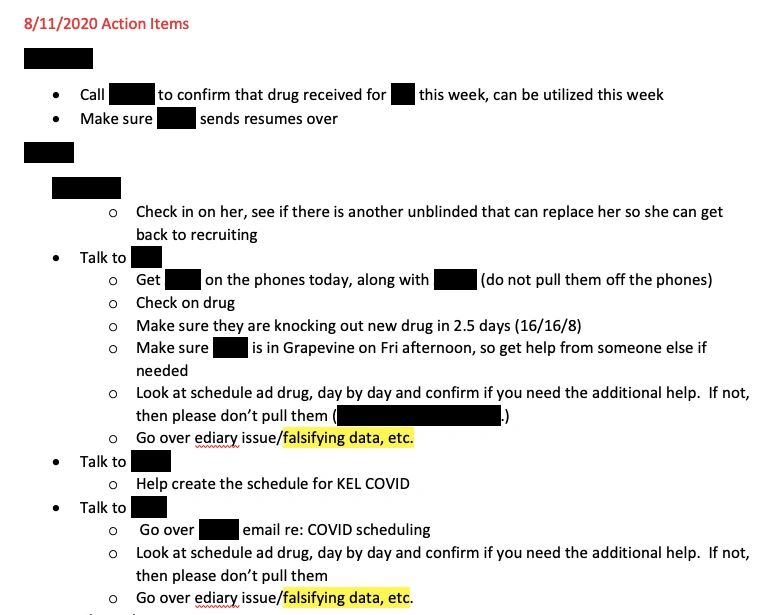 Ms Jackson said the work environment at Ventavia was chaotic, that they were understaffed and that trial participants would be left, unmonitored in the hallway, due to a back log of visits and a lack of space.
The issues were so egregious according to Ms Jackson, that she suggested Ventavia "immediately pause the recruitment of trial participants," in order to address the issues.
On 17 September 2020, Ventavia agreed with Ms Jackson and asked staff to compile a list of 'common' quality control breaches, to be reviewed.
The breaches included improper informed consent forms (ICFs), unblinded staff (vaccine assignment was indicated on the forms), and mismatched signatures (according to Ms Jackson, staff would forge patient signatures if they were missing).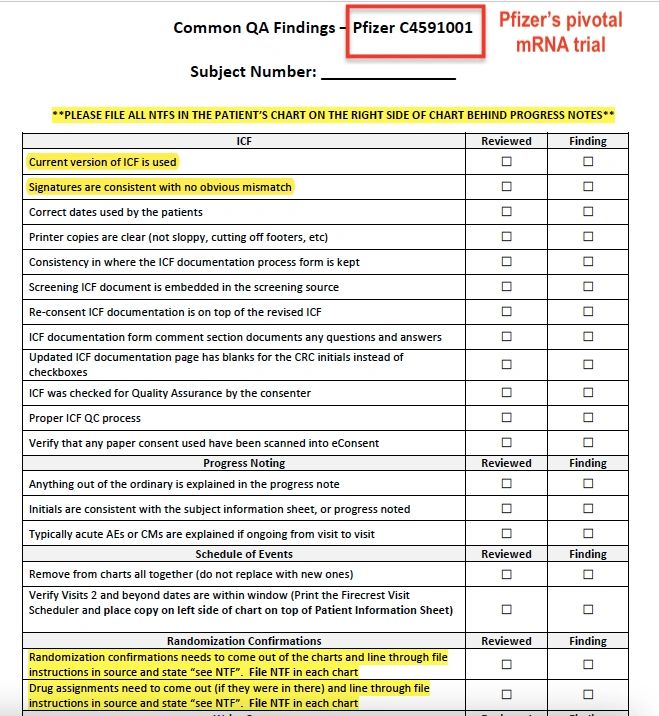 Following the pause in recruitment, an email dated 22 September 2020 indicates that Ventavia's chief operating officer demanded that all staff undergo mandatory training to avoid the repeated errors that had been occurring in the lab. (see email)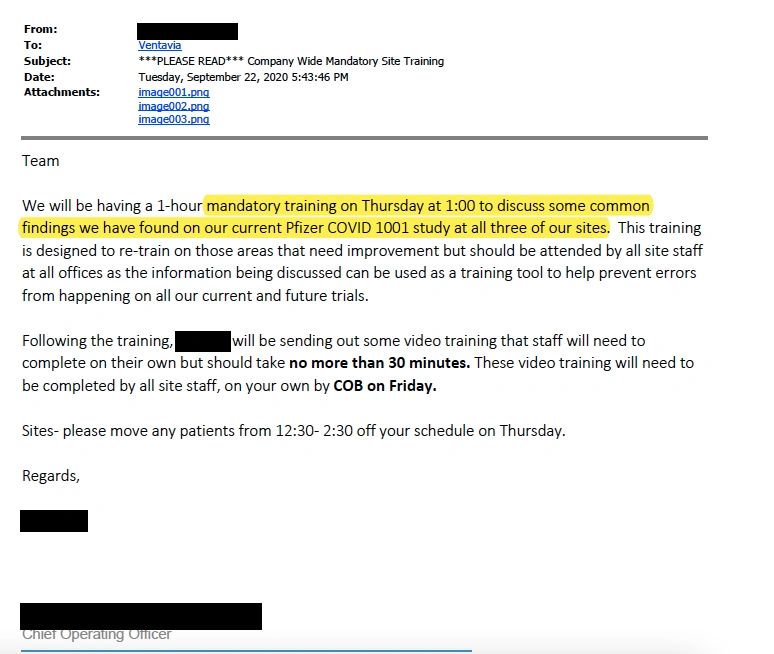 Ventavia was also obligated to tell Pfizer about the pause, but text messages between senior staff members provided by Ms Jackson suggest that they were reluctant to be transparent about the reasons why.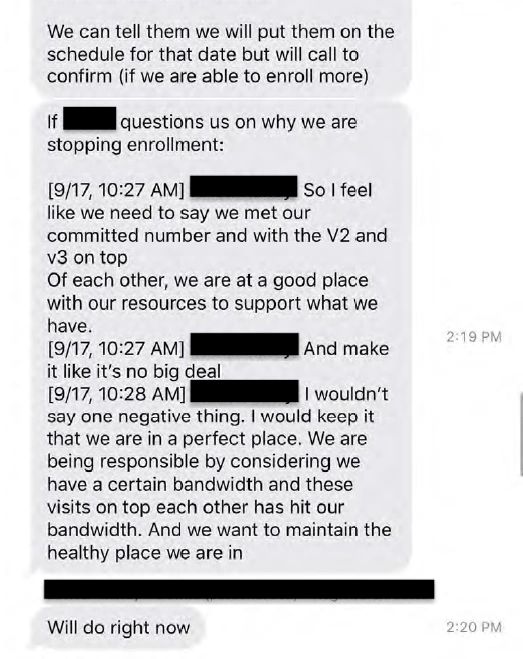 "I feel like we need to say we met our committed number [of participants]", said one staffer. "Make it like it's no big deal. I wouldn't say one negative thing. I would keep it that we are in a perfect place".
Ms Jackson says that when she raised her concerns with Ventavia, the environment became hostile.
After filing a formal complaint with the FDA on 25 Sept 2020, she was fired the same day.
The FDA did not investigate the site, despite receiving credible allegations of clinical trial misconduct.
The documents show that the problems were not limited to a single issue or employee, but were pervasive and persistent, putting patients at risk and likely to impact data integrity.
"When you look at the whole picture, can we really trust the data that is coming from Ventavia? No," said Ms Jackson.
Ventavia issues ongoing
Leaked documents now suggest that problems with quality control in the current phase III trials were not corrected following Ms Jackson's complaint.
A document dated 14 September 2021 – a year after Ms Jackson was fired – indicates that Ventavia is still experiencing issues with non-compliance and failure to timely report serious adverse events (SAE).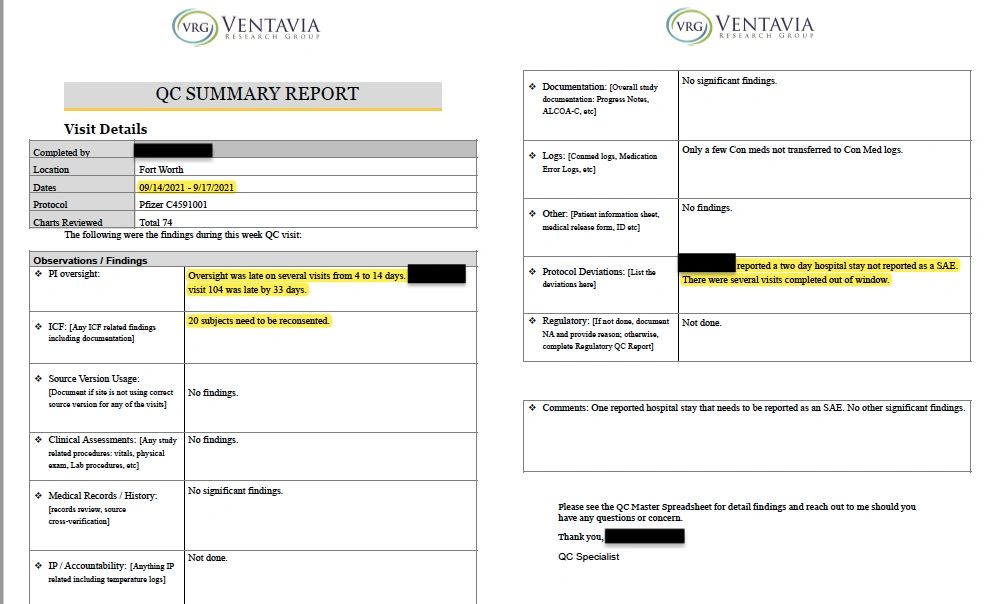 Another document indicates that staff had not taken a swab sample from a participant who came to the trial site feeling unwell.
When presented with questions by maryannedemasi.com, Ventavia and Pfizer did not comment.
The data underpinning the 'emergency use authorisation' of Pfizer's mRNA vaccine was published in the top-tiered New England Journal of Medicine in December 2020.
As yet, the published paper has not had an "expression of concern" registered, nor has it been retracted.
Repeated requests for comment from the journal's Editor-in-Chief, Prof Eric Rubin and Executive Editor Prof Mary Beth Hamel, have gone unanswered.
The whistle-blower reflects
"I recognised problems from day one. As the days progressed, I noticed they did not address the deficiencies. They were actually trying to cover them up and I told them that I refused to be a part of that, I refused to be complicit in their fraud," says Ms Jackson.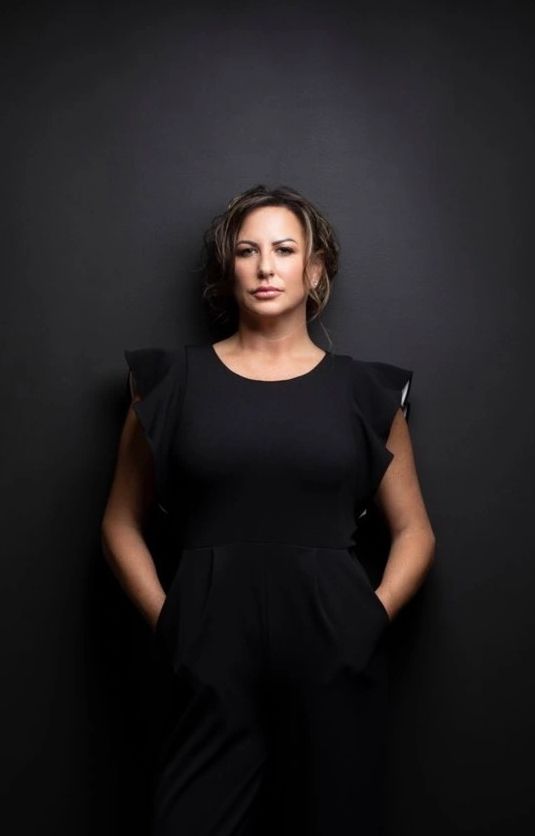 "I felt that Ventavia was targeting me for bringing all these concerns forward," she adds.
Ms Jackson understands the significance of her allegations, which is why she was reluctant to take it to the media, for fear of being dismissed as an "anti-vaxxer."
"I have been disappointed that some are saying that these claims are not credible. But then again, I have been disappointed for a long time because Ventavia was allowed to cut corners and the FDA did not do its job," says Ms Jackson.
Soon after being fired, Ms Jackson says she began receiving repeated phone calls and text messages about the concerns she raised, from Pfizer's attorney who had her private phone details.
Ms Jackson described it as feeling "intimidated".
Where to from here?
Drug regulators like the TGA and the FDA are tasked with protecting the public and carrying out independent assessments of the benefits and safety of medicines.
However, the concerns raised by Ms Jackson have not shifted their position.
Despite repeatedly promising transparency, the FDA has asked a US federal judge to make the public wait until 2076, i.e. 55 years, to disclose the totality of the data & information it relied upon to license Pfizer's COVID-19 vaccine for adults.
The TGA has denied that these issues raised by Ms Jackson have impacted the integrity of the data. In a statement to maryannedemasi.com it said:
"The allegations raised in The BMJ article pertain to three sites (approximately 2% of the trial population) in the United States and there is no suggestion that other sites may be implicated. Therefore, the TGA assessment is that the overall results are not expected to be impacted."
The TGA's "2%" seems to rely on an assumption that there were only 1000 participants at Ventavia sites. However, there were 1000 participants in September 2020, at the time Ms Jackson was fired.
Ventavia was actively recruiting new participants and a recent statement by The BMJ suggests that there may be more trial participants involved and that the total number recruited by Ventavia is still unknown.
"Another former Ventavia employee has told The BMJ that Ventavia ultimately recruited many more participants to Pfizer's clinical trial than those reported to the FDA by Jackson. Neither Pfizer nor Ventavia will respond to questions from The BMJ to help clarify this matter," stated The BMJ.
Ventavia is a company affiliated with the Platinum Research Network (PRN) which includes at least five other companies running trial sites for Pfizer's COVID-19 vaccine.
When asked about the number of participants recruited for the Pfizer trial and the number of trial sites being run by these companies, PRN did not respond.
In the early stages of "Operation Warp Speed," there was a mad rush to recruit participants and get the trials up and running in record time.
"There was no doubt that speed and haste were driving enrolments at Ventavia. Pfizer's race to be number one was driving enrolments, offering bonuses if they met enrolment expectations. It begs the question, if it happened in Ventavia, where else did it happen?" says Ms Jackson.
Did this need for speed compromise the data upon which the vaccine was approved? The answer remains uncertain.