NZ Herald | 4 April 2016
A massive leak of documents from a powerful law firm based in Panama, Mossack Fonseca, has revealed how some of the world's most powerful leaders and politicians moved money through offshore shell companies which provided tax free havens.
The International Consortium of Investigative Journalists partnered with major media companies such as the BBC, Guardian, Le Monde, Suddeutsche Zeitung and the Asahi Shimbun to sift through the so-called "Panama papers" and compile the leaked data for release.
[youtube https://www.youtube.com/watch?v=F6XnH_OnpO0]
Here are some of the biggest players named so far:
Juan Pedro Damiani, a lawyer and member of FIFA's ethics committee, represented those implicated in the FIFA corruption scandal and helped them create offshore shell companies.
Soccer star Lionel Messi is also implicated in the leak. He and his father took owned a shell company in Panama called Mega Star Enterprises Inc. Messi is currently the target of a tax evasion case in Spain.
Film star Jackie Chan has been revealed to have at least six companies represented in the firm, though he may have used the companies legitimately for business purposes rather than tax evasion.
The leaks reveal the late father of David Cameron was involved in offshore dealings.
Ian Cameron managed a company called Blairmore Holdings in Panama, the investment literature advertised that money was not subject to capital gains or taxation on income and that the fund "will not be subject to United Kingdom corporation tax or income tax on its profits."
Lord Ashcroft, one of the United Kingdom's richest men, is listed for having a subsidiary of his company used to assist Mossack Fonseca in Belize.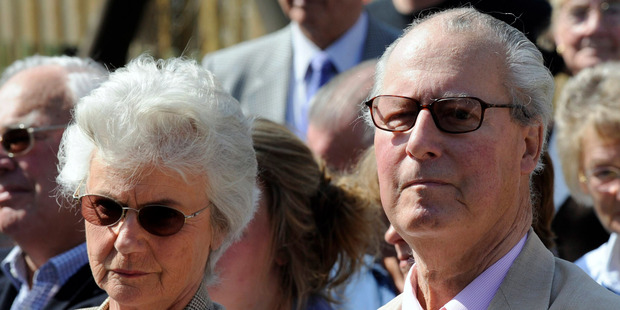 Ian Cameron with wife Mary. The late father of David Cameron has been implicated in the Panama Papers. Photo / Getty
Belize Corporate Services (BCS) used Mossack Fonseca to provide shell companies for clients while Ashcroft was in the House of Lords. BCS also went into business with Mossack Fonseca to create companies in Belize.
Other Britons include Baroness and life member of U.K Parliament Pamela Sharples, who used a Bahamas company for investments, and British MP from 1974 to 2010, Michael Mates who used offshore companies for real estate development in the Caribbean.
Sigmundur Davio Gunnlaugsson, Prime Minister of Iceland and former journalist who lead a campaign against bank bailouts, is revealed to have millions tied up in offshore shell companies, even while Iceland suffered a recession.
He is listed along with Iceland's minister of finance, Bjarni Benediktsson, and Iceland's Interior Minister, Olof Nordal.
The Prime Minister of Ukraine Petro Poroshenko, who swept into power promising a wave of reforms against oligarch corruption, promised to sell his assets. He did, to offshore have "Prime Asset Partners" in which he is a beneficiary and shareholder.
Another Prime Minister who vowed to fight corruption, Maricio Macri of Argentina, is listed as a director along with his father and brother of Fleg Trading Ltd. in the Bahamas. The company dissolved in 2009.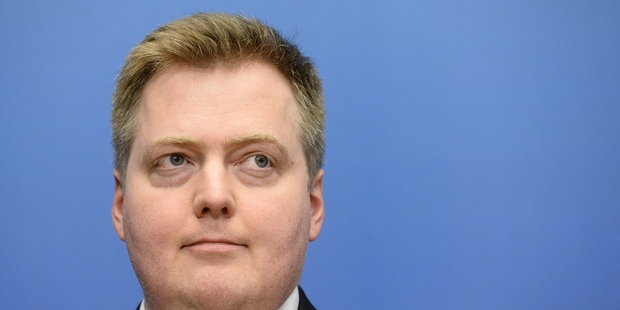 Prime Minister of Iceland Sigmundur David Gunnlaugsson had millions in offshore tax havens while Iceland went through a major recession. Photo / Getty
The King of Saudi Arabia, Salman bin Abdulaziz bin Abdulrahman Al Saud, used money from a company in the British Virgin Islands on mortgages on luxury homes in London and to hold a yacht the "length of a football field."
The Crown Prince and Interior Minister of Saudi Arabia, Mohammad bin Naif bin Abdulaziz Al-Saud is listed too. He used Swiss bank UBS buy Panamanian companies from Mossack Fonseca to open bank accounts and gain power of attorney.
President of the United Arab Emirates, Khalifa bin Zayed bin Sultan Al Nahyan, one the richest men in the world, used British Virgin Islands companies to purchase luxury real estate around the world.
Close friends of Russian President Vladimir Putin named in the leak managed to shuffle $2 billion through off-shore accounts.
ICIJ has said a full list of key players in the scandal will be revealed in the following days.
A reporter from Suddeutsche Zeitung has responded to questions about the lack of names from the United States, by saying "Just wait for what's coming."