GWPF | 12 July 2016
Brexit Threatens EU Climate Policy
The speech given by the next Prime Minister this morning contained some important passages setting out what kind of prime minister Theresa May will be. "This is a different kind of Conservatism," she said, seeking to differentiate herself from David Cameron while remaining true to Conservative principles. Here is what she said and what I think she meant. "I want to see an energy policy that emphasises the reliability of supply and lower costs for users." She's not a Green.  –John Rentoul, The Independent, 11 July 2016
1) Britain's New Prime Minister Is Not A Greenie
The Independent, 11 July 2016
2) What Is David Cameron's Green Legacy?
The Guardian, 20 April 2016
3) Brexit Threatens EU Climate Policy
Bloomberg, 11 July 2016
4) The Consequences Of Brexit For Climate Change
The Listener, 11 July 2016
5) MPs To Examine Brexit Implications On New UK Energy Policy
Energy Live News, 11 July 2016
6) Brexit To Hit Green Energy Industry Hard
BDC Magazine, 5 July 2016
7) UK Relies On Emergency Measures To Avert Winter Blackouts
The Daily Telegraph, 8 July 2016
8) Carbon Markets Collapsing Around The World: Permits Have Become Virtually Valueless
Bloomberg, 9 July 2016
It is one of the most successful political reinventions ever. In just a few years as its new leader, David Cameron turned around the Tories' toxic "nasty party" image – at least with enough voters to form a coalition government. One of the most eye-catching moments came 10 years ago today with his "hug a husky" trip to the Arctic to highlight the impact of climate change. It was followed by Cameron's commitment to lead the "greenest government ever". Yet with a succession of green policies now dropped or watered down, those environmental promises are now ringing hollow with many voters. –Adam Vaughan, The Guardian, 20 April 2016
The U.K. vote to leave the European Union risks stoking a bitter fight among EU governments over sharing the burden of [CO2] cuts in the transport, farm and building industries, potentially weakening the bloc's leadership in the battle against climate change. Last month's U.K. vote to leave the EU caused political shock waves that are penetrating deep into the bloc's institutions, rattling the decision-making machinery and clouding the outlook for a range of policies including climate protection. The turbulence could end up watering down Europe's emissions-reduction target for the next decade because the remaining EU nations may balk at boosting their effort to compensate for Brexit. –Ewa Krukowska and Jonathan Stearns, Bloomberg, 11 July 2016
The greatest risk posed by Brexit is not technicalities around ratification of the Paris Agreement, but rather the loss of a strong voice on climate change within the EU. The UK's voice has been important not only for internal EU policy but also for the EU's role in international negotiations. Brexit risks shifting the balance of EU climate policies away from ambitious targets. The key factor is likely to be how strong the shift is in global thinking and commitment to action on climate change heralded by the Paris Agreement. –Adrian Macey, The Listener, 11 July 2016
Europe's renewable energy sector is facing significant insecurity in the wake of the UK's vote to leave the European Union. The Brexit campaign was led by a number of leading political figures who oppose tackling climate change by introducing wind warms and other renewable energy sources to replace fossil fuel power stations. Of all the possible contenders to replace David Cameron, none are great advocates of renewable energy sources. It is now unclear what course of action the government will take in terms of renewable energy sources given the current state of disarray in the country's political landscape. However the Brexit win raises questions about whether the cross party unity on tackling the issue of global warming will now start to disintegrate. –Josh Philips, BDC Magazine, 5 July 2016
An inquiry exploring the implications of Brexit on the UK's energy policies has been launched. The Energy and Climate Change Committee said the nation's exit from the European Union raises a number of questions the government will need to consider when it negotiates the deal. It adds while Member States, including the UK, retain sovereignty over their energy mix, parts of UK energy policies have been driven by EU-wide directives and proposals. Through the inquiry, the Committee aims to understand the implications and determine which policy areas will need to be addressed during the exit negotiations. —Priyanka Shrestha, Energy Live News, 11 July 2016
Britain may have to rely on costly emergency measures to keep the lights on this winter after spare capacity in the power market fell to the lowest level on record. Power stations operating under normal market conditions will produce barely enough electricity to meet peak demand following a series of coal plant closures, National Grid analysis shows. National Grid has been forced to intervene and bolster supplies by paying 10 power plants £123m to stay open through an emergency scheme, the costs of which will be passed on to consumers through their energy bills. It will then make additional payments to these back-up power plants to fire up, if they are needed as a "last resort" to prevent blackouts. These costs, which could easily run to tens of millions of pounds in a cold snap, will also be passed on to consumers. –Emily Gosden, The Daily Telegraph, 8 July 2016
Carbon markets, the free enterprise solution to saving the world from global warming, are now in danger themselves. Undercut by a lack of political will on the size of caps and overtaken by costly new environmental mandates, carbon markets in the United States, Europe and Asia are collapsing, with prices so low they have become virtually valueless. The markets are crumbling just as Britain's vote to leave the European Union throws into question the future of the world's largest market by threatening to shrink demand. —Bloomberg, 9 July 2016
1) Britain's New Prime Minister Is Not A Greenie
The Independent, 11 July 2016
John Rentoul
The speech given by the next Prime Minister this morning contained some important passages setting out what kind of prime minister Theresa May will be. "This is a different kind of Conservatism," she said, seeking to differentiate herself from David Cameron while remaining true to Conservative principles. Here is what she said and what I think she meant. "I want to see an energy policy that emphasises the reliability of supply and lower costs for users." She's not a Green.
2) What Is David Cameron's Green Legacy?
The Guardian, 20 April 2016
A decade ago today, the Conservative leader visited the Arctic to witness the effects of climate change. But since coming to power, his government has dropped or watered down a succession of green policies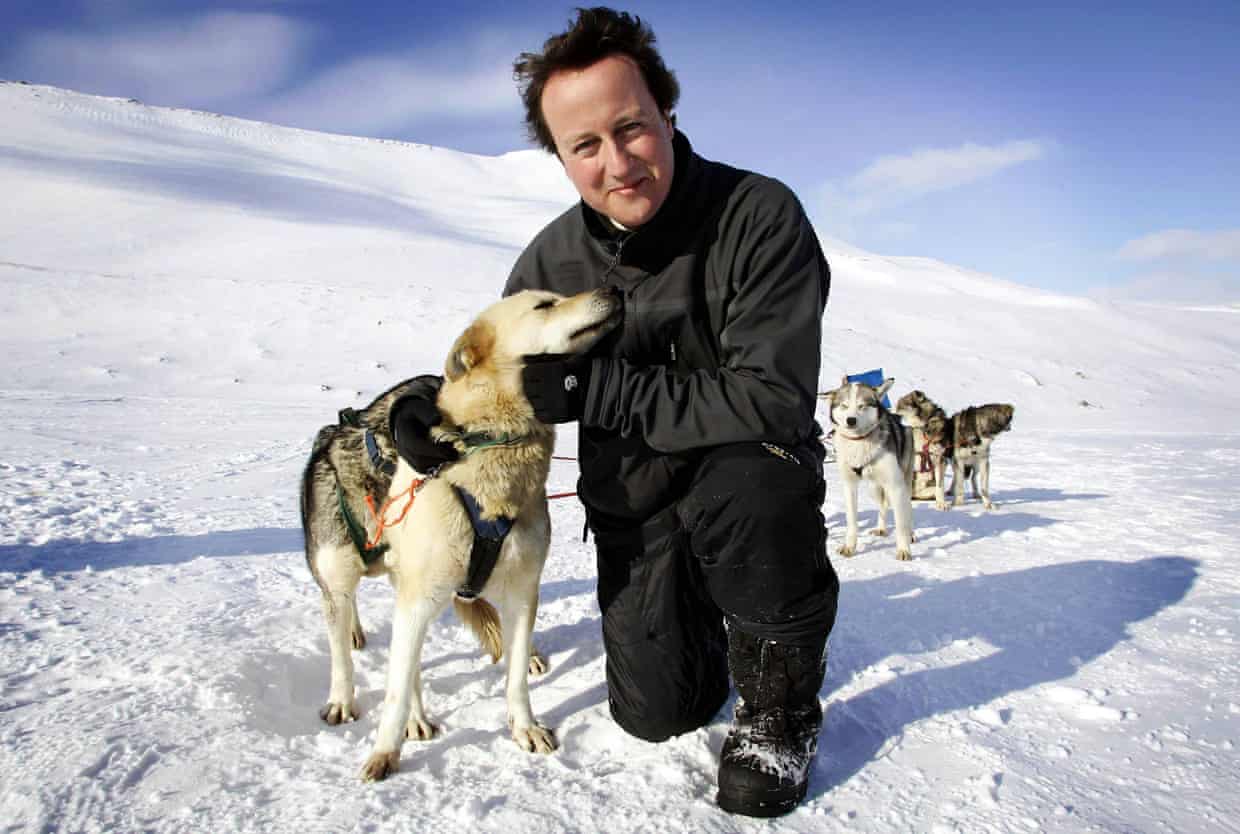 Burying plans for carbon storage
Once upon a time, Cameron said carbon capture and storage (CCS) was "absolutely critical" for cutting carbon emissions. Now he says it's too expensive, and his government binned a £1bn competition to fund a trial CCS plant.
Backtracking on green homes
A few months after Cameron hugged a husky, plans were announced to make all new homes zero-carbon by 2016. After a decade in the making – during which time housebuilders were more or less resigned to having to meet the standards – Cameron's government axed the plan. His ministers also scrapped the flagship energy efficiency scheme to bring down household bills, and still have nothing to replace it. The amount of insulation installed through government schemes is massively down since 2012.
Slapping a carbon tax on carbon-free energy
Last year Cameron's government changed the rules to make renewable energy generators pay a carbon tax. The boss of Britain's biggest coal power plant operator, Drax, which is converting to biomass and was hit by the change to the climate change levy, said it was like "putting an alcohol tax on apple juice".
Retreat from wind while embracing fracking
Building new onshore windfarms is now pretty much uneconomical in the UK because of changes since the election last year. While subsidies were removed and planning made harder for turbines on land, tax breaks have been given to the shale gas industry and ministers' letters revealed they are considering taking fracking planning decisions out of the hands of local authorities.
3) Brexit Threatens EU Climate Policy
Bloomberg, 11 July 2016
Ewa Krukowska and Jonathan Stearns
The U.K. vote to leave the European Union risks stoking a bitter fight among EU governments over sharing the burden of [CO2] cuts in the transport, farm and building industries, potentially weakening the bloc's leadership in the battle against climate change.
The European Commission, the EU's regulatory arm in Brussels, is due on July 20 to propose varying emission-reduction goals for individual member countries so the 28-nation bloc can reach its headline targets for trimming discharges blamed for causing more frequent heat waves, storms and floods.
The draft law will apply to industries that are outside Europe's emissions-trading market and that must reduce greenhouse-gas discharges by a total of 30 percent in 2030 compared with 2005 levels. While some nations will be pressed to slash their discharges by 40 percent, others will be asked only to stabilize emissions. The U.K. faces a cut of around 35 percent.
"When it comes to the political negotiations among member states, there will be a lot of uncertainty," said Annika Hedberg, a senior analyst at the European Policy Centre in Brussels. "It comes down a lot to the leadership in Britain. What kind of a player will they be in Brussels? Will they be abstaining? Will they be opposing?"
Political Shock Waves
Last month's U.K. vote to leave the EU caused political shock waves that are penetrating deep into the bloc's institutions, rattling the decision-making machinery and clouding the outlook for a range of policies including climate protection. The turbulence could end up watering down Europe's emissions-reduction target for the next decade because the remaining EU nations may balk at boosting their effort to compensate for Brexit.
With EU environment ministers planning to tackle the forthcoming commission proposal later this year, the targets for 2030 would be so politically sensitive that they'd also need a nod from heads of government. The U.K. will take part in the negotiations and be required to take on new climate commitments until any secession talks with the EU are completed.
Once the EU shrinks, the remaining member states would need either to step up their ambition to uphold Europe's headline goal of cutting emissions at least 40 percent by 2030 from 1990 levels or to loosen that target, risking international criticism.
Brexit Impact
The commission declined to speculate about the possible impact of Brexit on EU policies before the U.K. government triggers the secession process. Such a step will be taken by a new British leader, Prime Minister David Cameron said last month when announcing his resignation.
"The British people decided they want to leave the European Union and we now expect a formal notification to that effect," commission spokesman Margaritis Schinas said on June 30. "All the rest will follow."
The 40 percent goal is Europe's contribution to a global climate treaty reached in Paris last year by almost 200 nations. European leaders agreed in 2014 to distribute the burden on the basis of gross domestic product per capita.
After Brexit, the U.K. would have to declare its own national goal. Any resulting weaker EU target would undermine the bloc's ambition to lead the fight against global warming.
4) The Consequences Of Brexit For Climate Change
The Listener, 11 July 2016
Brexit is likely to make tackling climate change more difficult.
Brexit has created uncertainty and anxiety about climate change, especially the implications for last year's Paris Agreement, but it does not need to be a disaster.
There is no reason to suppose the UK will resile from its target of 80% net reductions on 1990 levels by 2050, which has strong institutional backing and broad support. Under current legislation, the UK targets are converted into legally binding five-yearly carbon budgets.
Just a few days after the Brexit vote, the UK Government accepted the recommendation of the Committee on Climate Change for the fifth carbon budget, from 2027 to 2032. This will require a 57% reduction on 1990 by 2030. It's worth noting that this is considerably more ambitious than the UK's commitment under the Paris Agreement.
But it does get more complicated when it comes to the EU. Under the Paris Agreement, all EU members have individually tabled the EU's intended nationally determined contribution (INDC), centred on a 40% emissions reduction from 1990 levels by 2030, to be met collectively. EU members are ratifying individually; the EU as a whole will ratify through its Environment Council, with consent by the European Parliament. How the target will be allocated internally – the burden-sharing arrangements – is yet to be decided.
There were hopes to have the EU ratifications completed this year. Theoretically, ratifications could go ahead and the INDCs be adjusted later once Brexit happened. But the timetable must now be in doubt.
Again in theory, the UK could continue to be at least fully linked to the EU Emissions Trading Scheme (ETS) and its carbon market. The ETS has played a role in achieving the UK's emissions reductions in areas such as power generation.
However, as the Committee on Climate Change has pointed out, the UK might have to look to new measures to take the place of EU programmes. Environmental and economic logic would argue in favour of continued integration with Europe's ETS. But political logic – as New Zealand saw with our failure to maintain access to Kyoto market mechanisms – is less rational. In any case, there is lots of work ahead for lawyers and negotiators.
The greatest risk posed by Brexit is not technicalities around ratification of the Paris Agreement, but rather the loss of a strong voice on climate change within the EU. The UK's voice has been important not only for internal EU policy but also for the EU's role in international negotiations.
Brexit risks shifting the balance of EU climate policies away from ambitious targets. The key factor is likely to be how strong the shift is in global thinking and commitment to action on climate change heralded by the Paris Agreement.
5) MPs To Examine Brexit Implications On New UK Energy Policy
Energy Live News, 11 July 2016
Priyanka Shrestha
An inquiry exploring the implications of Brexit on the UK's energy policies has been launched.
The Energy and Climate Change Committee said the nation's exit from the European Union raises a number of questions the government will need to consider when it negotiates the deal.
It adds while Member States, including the UK, retain sovereignty over their energy mix, parts of UK energy policies have been driven by EU-wide directives and proposals.
Through the inquiry, the Committee aims to understand the implications and determine which policy areas will need to be addressed during the exit negotiations.
It is inviting responses on the extent to which government energy policies in the UK have been driven by the EU and any areas that are currently at risk.
The Committee is also seeking views on what the government should prioritise in the energy sector when negotiating the nation's exit and the aspects of existing EU policies that are beneficial to the UK.
The deadline for submissions is 14th September.
6) Brexit To Hit Green Energy Industry Hard
BDC Magazine, 5 July 2016
Josh Philips
Europe's renewable energy sector is facing significant insecurity in the wake of the UK's vote to leave the European Union.
The Brexit campaign was led by a number of leading political figures who oppose tackling climate change by introducing wind warms and other renewable energy sources to replace fossil fuel power stations.
Lord Nigel Lawson, founder of the Global Warming Policy Foundation think tank, was part of the strategy committee for the leave campaign and he has been quoted as saying that the science behind climate change is "not yet settled."
Boris Johnson, figurehead of the Brexit movement and former Mayor of London, once questioned the validity of global warming during a snowy winter and said that wind farms are "hideous" and ruining the country's landscape.
Of all the possible contenders to replace David Cameron, none are great advocates of renewable energy sources, with one in particular, Michael Gove, once accused of downgrading climate change in the national school's curriculum.
It is now unclear what course of action the government will take in terms of renewable energy sources given the current state of disarray in the country's political landscape. However the Brexit win raises questions about whether the cross party unity on tackling the issue of global warming will now start to disintegrate.
7) UK Relies On Emergency Measures To Avert Winter Blackouts
The Daily Telegraph, 8 July 2016
Britain may have to rely on costly emergency measures to keep the lights on this winter after spare capacity in the power market fell to the lowest level on record.
Power stations operating under normal market conditions will produce barely enough electricity to meet peak demand following a series of coal plant closures, National Grid analysis shows.
The "spare margin" between peak electricity demand and the supplies likely to be available in the market has fallen to just 0.1pc, the lowest on record.
As a result, National Grid has been forced to intervene and bolster supplies by paying 10 power plants £123m to stay open through an emergency scheme, the costs of which will be passed on to consumers through their energy bills.
It will then make additional payments to these back-up power plants to fire up, if they are needed as a "last resort" to prevent blackouts. These costs, which could easily run to tens of millions of pounds in a cold snap, will also be passed on to consumers.
The emergency scheme will bring the UK's overall spare power margin up to 5.5pc, a "manageable" level to keep the lights on, the company said.
This is the third year that National Grid has had to prepare such emergency measures, which were originally only intended to last for two winters.
However, the underlying situation has deteriorated since last year, when there was still spare margin in the main electricity market of 1.2pc.
8) Carbon Markets Collapsing Around The World: Permits Have Become Virtually Valueless
Bloomberg, 9 July 2016
Carbon markets, the free enterprise solution to saving the world from global warming, are now in danger themselves.
The idea was simple enough: Set a cap on carbon emissions, issue enough permits to allow power plants, refineries and the like to stay within those limits, and then shrink the cap over time to achieve reductions.
The firms whose emissions fall fastest can sell their permits for a profit to slower responders – call it a reward for good behaviour.
The reality, though, is more complex. Undercut by a lack of political will on the size of caps and overtaken by costly new environmental mandates, carbon markets in the United States, Europe and Asia are collapsing, with prices so low they have become virtually valueless.
The credits auctioned in the US north-east in June, for instance, sold for just US$4.53 (S$6.12) a short ton, a 40 per cent drop from December. […]
The surplus of allowances is becoming so large in systems run by Europe, California and Quebec – which together account for more than 90 per cent of global trading – that by 2022 it could cover the emissions spewing from every car on Earth for a full year, according to estimates by the London environmental group Sandbag Climate Campaign CIC and Bloom- berg New Energy Finance.
In California's market, all 23 million allowances were sold in an auction in 2014. In May, 7.3 million permits found buyers, only 11 per cent of what was put up for sale.
The markets are crumbling just as Britain's vote to leave the European Union throws into question the future of the world's largest market by threatening to shrink demand.