GWPF | 20 July 2016
Dear Theresa, Get Cracking On Fracking
After Brexit, the UK is being tipped to shift energy policy to favour domestic production including so-called fracking for gas. A temporary ban was introduced in 2011 on the hydraulic fracturing – or "fracking" – technology used to extract gas from shale rock, but sections of the industry hope for support from new prime minister Theresa May. Stephen Bowler, chief executive of London-listed shale gas developer IGas, told Reuters that Brexit made the case for shale more vital: "An independent Britain needs an independent supply of energy. Security of supply becomes even more important now." –Karolin Schaps, Reuters, 20 July 2016
Ineos, the $50bn petrochemicals giant controlled by British billionaire Jim Ratcliffe, aims to accelerate shale gas development in the UK by lodging as many as 30 planning applications to drill test wells in the next six months. Tom Crotty, a director at Ineos, said the company hoped to start drilling in the north of England early next year and could begin extracting gas in about 18 months through the controversial technique known as fracking. –Peggy Hollinger, Financial Times, 17 July 2016
For the US to sell gas to the energy-rich Middle East might seem like sending coal to Newcastle, but it has started to happen as the American shale revolution upends the global flows of resources. Two cargoes of US liquefied natural gas from Cheniere Energy's Sabine Pass plant in Louisiana have been delivered to Kuwait and Dubai in recent months to meet the rapidly growing demand for energy. –Ed Crooks, Financial Times, 18 July 2016
1) After Brexit, UK Tipped To Shift To Fracking
The Irish Independent, 20 July 2016
2) Ineos To Lodge 30 Fracking Applications To Kick-Start UK Shale Gas Market
Financial Times, 17 July 2016
3) James Delingpole: Dear Theresa, Get Cracking On Fracking
The Sun, 20 July 2016
4) Shale Revolution 3.0: U.S. Exports Gas To The Middle East
Financial Times, 18 July 2016
5) Matt Ridley: Green Industrial Strategy Is Bad For The Poor
The Times, 18 July 2016
6) Philippines Won't Honor Paris Climate Agreement
Philippine Daily Inquirer, 18 July 2016
7) GWPF Climate Briefing: The CCC's New Climate Risk Report – A Reality Check
Global Warming Policy Forum, 19 July 2017
Fracking has the potential create jobs and boost Britain's economy after Brexit. Theresa May must be seen as a champion of fracking to get the country's economy back on track. Mrs May must be seen as a champion for fracking, debunking the propaganda of the small cabal of vocal, well-funded green campaigners and hammer home the message that it is in our broader national interest to frack. If, as she says, she really cares about the needs of ordinary working people, this is her quickest, cheapest way to help them. –James Delingpole, The Sun, 20 July 2016
The biggest source of inequality is government intervention on behalf of crony capitalism, not the free market. Our current "industrial strategy" for energy — to subsidise offshore wind, solar, biomass and nuclear — is responsible for the fact that domestic electricity prices are the seventh highest of the 29 countries that are members of the International Energy Agency, 21 per cent above the median, while our industrial energy prices are fourth highest and 43 per cent above the median. Domestic electricity bills are a higher proportion of household budgets for the poor than for the rich, so this policy is regressive; doubly so, because the wind and solar subsidies mostly go to the rich. High industrial electricity bills are a big part of the cost of aluminium, steel and other blue-collar industries, and bear a heavy responsibility for the painful closures at Lynemouth and Redcar. The policy has been tough for blue-collar workers and poorer people.  –Matt Ridley, The Times, 18 July 2016
Philippines President Duterte on Monday said his administration would not honor the historic Paris Agreement on climate change that the Philippines adopted along with about 200 countries in December 2015, saying the covenant was "stupid" and "absurd." –Marlon Ramos, Philippine Daily Inquirer, 18 July 2016
1) After Brexit, UK Tipped To Shift To Fracking
The Irish Independent, 20 July 2016
Karolin Schaps
After Brexit, the UK is being tipped to shift energy policy to favour domestic production including so-called fracking for gas.
A temporary ban was introduced in 2011 on the hydraulic fracturing – or "fracking" – technology used to extract gas from shale rock, but sections of the industry hope for support from new prime minister Theresa May.
Stephen Bowler, chief executive of London-listed shale gas developer IGas, told Reuters that Brexit made the case for shale more vital: "An independent Britain needs an independent supply of energy. Security of supply becomes even more important now."
Shale gas had a poor start in Britain. The first well to be fracked, near the seaside city of Blackpool in Lancashire, was abandoned when some of the work there triggered an earth tremor that resulted in an 18-month ban on the technology.
More recently, low energy prices have added to strains. "The weak gas price certainly doesn't help the economics. But there's still a lot of potential there," said David Round, analyst at BMO Capital Markets.
"You'd expect costs to come down once you get a few years into the development."
Two months ago, Third Energy received the first planning approval for a shale gas fracking well since 2011. It says it will start hydraulic fracturing at its Kirby Misperton site in North Yorkshire before the end of the year.
Environmental group Friends of the Earth and a residents' anti-fracking group have applied for judicial review of the decision at London's High Court.
Other shale gas developers, including Ineos, IGas and Cuadrilla Resources, are now banking on government support for domestic energy sources and an offer of compensation to landowners to reinvigorate their campaign.
Cuadrilla aims to produce gas next year in the northwest, subject to planning approval, and Bowler's IGas plans to test first gas in northern England by 2018.
The UK government has already changed planning rules to speed up shale gas projects by giving the communities minister ultimate decision-making power on planning applications. A decision on whether to grant a permit under these new rules to Cuadrilla is due by October 6 and will be a first indication of government support for shale gas under the new prime minister.
2) Ineos To Lodge 30 Fracking Applications To Kick-Start UK Shale Gas Market
Financial Times, 17 July 2016
Peggy Hollinger
Ineos, the $50bn petrochemicals giant controlled by British billionaire Jim Ratcliffe, aims to accelerate shale gas development in the UK by lodging as many as 30 planning applications to drill test wells in the next six months.

Tom Crotty, a director at Ineos, said the company hoped to start drilling in the north of England early next year and could begin extracting gas in about 18 months through the controversial technique known as fracking.
The move comes as the group this year ends a six-year tax exile with the opening of a new headquarters in London for its mainly UK-based upstream oil and gas businesses. […]
The group, which owns the Grangemouth refinery in Scotland, has ambitions to become a substantial oil and gas producer, particularly in shale gas. Ineos has backed a highly public campaign to convince the Scottish government to lift its moratorium on fracking over the past year.
Full story (subscription required)
3) James Delingpole: Dear Theresa, Get Cracking On Fracking
The Sun, 20 July 2016
Fracking has the potential create jobs and boost Britain's economy after Brexit. Theresa May must be seen as a champion of fracking to get the country's economy back on track.
Imagine if our new Prime Minister Theresa May could wave her wand and achieve the following miracles within five years.
Create 500,000 new jobs, slash our electricity bills, restore British manufacturing, boost our economy, make us richer and stop our energy supplies being held to ransom by Putin, the Arabs, the French and other foreign regimes.
Well, the good news is she can, right now, and doesn't need magic to do it.
All she needs to do is get fracking — the marvellous technology that extracts shale gas and oil from the ground.
Fracking has worked wonders for the US economy and could do the same for ours.
Shale gas is just as valuable and useful as the natural gas we've been harvesting from the North Sea for decades.
The only difference is that, because it's mixed up with rock sediment, it used to be impossible to recover.
Then along came fracking. Suddenly the world had a new energy source just waiting to be harvested by those countries lucky enough to have shale gas and oil deposits.
Theresa May must be seen as a champion of fracking to get the country's economy back on track . Getty Images
Britain is one of them. We've got loads of the stuff.
Beneath Lancashire and Yorkshire alone, in the Bowland Shale, there are reserves so vast — around 1,300 trillion cubic feet — that even if we could extract just a tenth of them it would be enough to supply our gas needs for 50 years.
There may be similar energy gold mines everywhere, from the Sussex Weald to the north of Scotland.
Under the North Sea, the British Geological Survey estimates there may be ten times as much still.

In the Bowland Shale beneath Lancashire and Yorkshire there are reserves with enough gas for at least 50 years. Photo Reuters
'Miracle'
This would make the UK one of the world's top gas producers, with enough cheap, clean, homegrown energy to last us for well over a century.
But our progress in tapping this has been painfully slow, with the green lobby and councils strangling the process.
For example, Cuadrilla was granted a licence to explore for shale in Lancashire in 2007.
A decade on, not one single cubit foot of shale gas has yet been extracted in Lancashire or anywhere else in Britain.
And it's still waiting, as Lancashire County Council has rejected Cuadrilla's planning applications to develop two sites to explore for shale gas, due to noise and transport complaints.
So, though the Government last December sold licences for 159 new gas and oil exploration blocks — including 21 to the Anglo-Swiss chemicals giant Ineos — it could be years before any come on stream.
In Texas it takes seven days to get permission to frack a site. In Britain, it can take ten years or more to clear the regulatory hurdles.
Across the Pond, they have been fracking for more than a decade.
It is so advanced it is known as the shale gas "miracle". The shale oil and gas industry in the US is now worth in excess of 200billion dollars and is expected to get much bigger.
In 2015 a BP Energy Outlook report predicted that within 20 years the US could become self-sufficient in oil and will hold 75 per cent of the world's shale gas market.
As a result, America now has the world's lowest electricity prices and cheapest gas (half what it costs in Europe).
It now exports more petroleum products than it imports (so is no longer reliant on the Middle East) and its heavy manufacturing industries are enjoying a huge renaissance.
Lower energy costs mean higher productivity, so that suddenly US manufacturers can compete on equal terms with countries like China.
Contracts previously outsourced abroad are now increasingly being done at home ("reshoring"), which has meant a rise in jobs (more than 800,000 since 2011) for US blue-collar workers.
Could the same happen here? Most definitely, but for one problem.
For many people fracking is a dirty word. Not only does it sound rude, it has been the victim of a prolonged smear campaign by various green lobby groups such as Greenpeace which see it as a threat to their beloved renewable energy.
And they're right. It is a threat. Unlike solar or wind turbines (a.k.a. bat-chomping, bird-slicing eco- crucifixes), shale gas is cheap, reliable and does not need any taxpayer subsidies.
Nor does it kill wildlife or ruin the landscape for years on end.
The gas goes into a contraption, much smaller than a turbine, called a "Christmas tree", which only stays up for a few months then disappears forever once the gas has been harvested. It's also clean and safe.
The horror stories you hear put out by green activists — gas leaks, contaminated water, dodgy chemicals, "earthquakes" — have been investigated and exposed as lies, propaganda and nonsense. […]
So the next thing Mrs May can do to show she means business is to instruct her Communities Secretary Sajid Javid to reverse Lancashire County Council's planning rejection of drilling.
Mrs May must be seen as a champion for fracking, debunking the propaganda of the small cabal of vocal, well-funded green campaigners and hammer home the message that it is in our broader national interest to frack.
If, as she says, she really cares about the needs of ordinary working people, this is her quickest, cheapest way to help them.
4) Shale Revolution 3.0: U.S. Exports Gas To The Middle East
Financial Times, 18 July 2016
Ed Crooks
For the US to sell gas to the energy-rich Middle East might seem like sending coal to Newcastle, but it has started to happen as the American shale revolution upends the global flows of resources.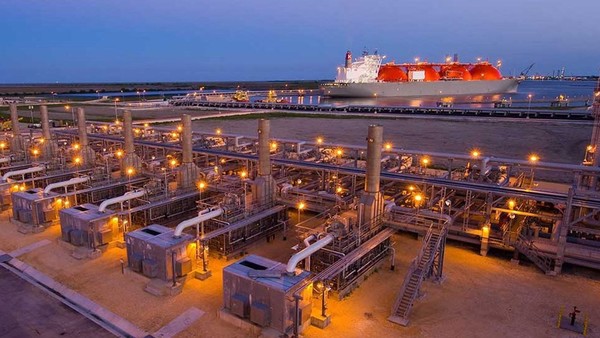 Cheniere Energy's LNG plant at Sabine Pass
Two cargoes of US liquefied natural gas from Cheniere Energy's Sabine Pass plant in Louisiana have been delivered to Kuwait and Dubai in recent months to meet the rapidly growing demand for energy.
This reversal of the well-established flows of hydrocarbons from the Middle East to the US reflects the boom in American gas production caused by the development of previously uncommercial shale reserves, and the soaring demand for energy in economies from the Gulf to north Africa.
"We're in a time of huge change in LNG shipping routes," said Ted Michael of Genscape, a market data provider. "The old order is being overturned, and we haven't seen the dust settle yet."
The Sabine Pass plant shipped its first cargo in February, and has already sent LNG to seven countries: Argentina, Chile, Brazil, India and Portugal, as well as Dubai and Kuwait.
Many Middle Eastern countries have large gas resources, but have not had the investment they need to bring their reserves into production. Countries with fast-growing economies and populations have been forced to took to gas imports for power generation and industrial uses.
Their rising demand for gas coincides with a wave of additional supply reaching world markets as new LNG export projects in Australia and the US come into production.
5) Matt Ridley: Green Industrial Strategy Is Bad For The Poor
The Times, 18 July 2016
The biggest source of inequality is government intervention on behalf of crony capitalism, not the free market.
In her first speech on the steps of 10 Downing Street Theresa May said that she intends to listen to those who "just about manage", not to the wealthy and mighty. "When it comes to opportunity, we won't entrench the advantages of the fortunate few." Dead right: but how?
In pursuit of that objective she has signalled that she may favour an industrial strategy intended to help those areas that have it toughest. Some have interpreted this as a sign that markets are out of fashion and that government intervention is back. That certainly seems to be part of the thinking of her aide Nick Timothy and think-tank influences such as David Skelton. Mr Timothy says it is time that politicians "questioned the unthinking liberalism of the policies they support".
Greg Clark, the business secretary, says he is thrilled to take charge of a "new department charged with delivering a comprehensive industrial strategy".
That worries me. The history of industrial strategies is littered with attempts to pick winners that ended up picking losers. Worse, it is government intervention, not laissez faire, that has done most to increase inequality and to entrench wealth and privilege. For example, the planning system restricts the supply of land for housebuilding, raising property prices to the enormous benefit of the haves (yes, that includes me) at the expense of the have-nots. The government favours private pensions, creates tax loopholes and subsidises farming and the opera.
Why are salaries so high in financial services? Because there are huge barriers to entry erected by government, which hands incumbent firms enormous quasi-monopoly advantages and thereby shelters them from upstart competition. Why are cancer treatments so expensive? Because governments give monopolies called patents to the big firms that invent them. Why are lawyers so rich? Because there is a government-licensed cartel restricting the supply of them. Why do civil servants get so many knighthoods — symbols of inequality? Because they control the supply of them.
I am not saying that all these interventions are wrong. Clearly, we want government to ensure that beauty spots are protected from development, that financial firms are not shysters, lawyers are not crooks and that drugs are safe and effective. But is it possible that both companies and regulators have a common interest in restricting competition, and subsidising each other, at the expense of consumers? Of course it is.
Our current "industrial strategy" for energy — to subsidise offshore wind, solar, biomass and nuclear — is responsible for the fact that domestic electricity prices are the seventh highest of the 29 countries that are members of the International Energy Agency, 21 per cent above the median, while our industrial energy prices are fourth highest and 43 per cent above the median.
Domestic electricity bills are a higher proportion of household budgets for the poor than for the rich, so this policy is regressive; doubly so, because the wind and solar subsidies mostly go to the rich. High industrial electricity bills are a big part of the cost of aluminium, steel and other blue-collar industries, and bear a heavy responsibility for the painful closures at Lynemouth and Redcar. The policy has been tough for blue-collar workers and poorer people.
6) Philippines Won't Honor Paris Climate Agreement
Philippine Daily Inquirer, 18 July 2016
Marlon Ramos
Philippines President Duterte on Monday said his administration would not honor the historic Paris Agreement on climate change that the Philippines adopted along with about 200 countries in December 2015, saying the covenant was "stupid" and "absurd."

The tough-talking President said the international treaty, signed by countries that participated in the 21st Conference of Parties in France, would only limit the country's industrial growth.
Speaking at sendoff ceremonies in Malacañang for Filipino athletes bound for the 2016 Olympics in Rio de Janeiro, Brazil, the President said a foreign ambassador recently reminded him of the country's commitment to limit its carbon emissions.
He said he was angry with the ambassador and "wanted to kick him" when the diplomat, whom he did not identify, asked him if the Philippines could maintain the level of its carbon footprints.
"I said, 'No. I cannot tell … You don't do it that way, Mr. Ambassador. [Your country] has reached the apex [of industrialization] and along the way put a lot of contaminants and emissions, and went ahead in destroying the climate,'" the President recalled as telling the ambassador.
"We have not reached the age of industrialization. We're now going into it. But you are trying to stymie [our growth] with an agreement that says you can only go up to here," he added. "That's stupid. I will not honor that."
Signature not his
When the ambassador told him that the Philippines was a signatory to the agreement, Mr. Duterte replied: "That was not my signature. It's not mine … I will not follow."
The President also said the climate change agreement was forged just when the Philippines was on its way to develop its own industries.
"Now that we're developing, you will impose a limit?" he said. "That's absurd."
"That's how very competitive and constricted our lives now. It's being controlled by the world, it's being imposed upon us by the industrialized countries. They think that they can dictate the destiny of the rest of the [world]," he added.
7) GWPF Climate Briefing: The CCC's New Climate Risk Report – A Reality Check
Global Warming Policy Forum, 19 July 2017
The UK's Committee on Climate Change (CCC) has published a new report on the risks facing the UK from climate change. In a video announcing the report, chair of the CCC's Lord Krebs highlighted the 3 main risks identified by the report.